Powered By:

←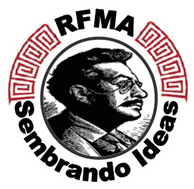 Ricardo Flores Magon Academy
Staff Appreciation Week 💛
04/25/22, 4:14 PM
In celebration of National Teacher Week (MAY 2- 6), we're collecting quotes from families and students to share with our teachers and our community. Please share your thoughts by filling out your information and answering at least one of the questions below.
https://forms.gle/zDNpp7pofiZH5xnPA
You can write a message to a teacher, individual staff members or to the whole RFMA team.
---------------------------
En celebración de la Semana Nacional de Agradecimiento a los Maestros (del 2 al 6 de mayo), pedimos nos manden comentarios y o dedicatorias de parte de las familias y estudiantes para compartirlas con nuestros maestros y nuestra comunidad. Comparta sus pensamientos completando su información y respondiendo al menos una de las preguntas a continuación.
https://forms.gle/zDNpp7pofiZH5xnPA
Puede escribir un mensaje a un maestro, a miembros individuales del personal o a todo el equipo de RFMA.